Bobby the Balloon Man and Scooter the Clown
(if menu on left does not appear, click here to view site)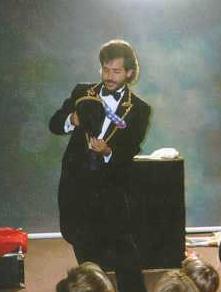 PERSONAL INFORMATION
Florida/Tampa Bay area Balloon Artist
Bobby Scuteri has been entertaining children as "Bobby the Balloon Man" - a premier south Florida balloon artist - since 1989 with his magic, juggling, face painting, and award-winning balloon art. He has entertained people at high tourist-based locations such as Mallory Square in Key West and Beach Place on the Ft. Lauderdale strip. He is a former certified elementary school teacher who has been teaching the wonderful art of clowning and magic to kids since 1993 at David Gindy's MagiCamp in South Florida.

In April of 2003, Bobby relocated with his family to Sarasota for a quieter and more relaxed pace of live, where he is worked as a Child Protection Investigator for the Department of Children and Families for 14 months. Following the DCF job, Bobby began teaching again - First at a private psychiatric facility in Bradenton and then at E. Booker Elementary in Sarasota. This is the school that President Bush was at during the September 11th attacks. Bobby is currently an ESE teacher there and ready to move on to his new location at the end of the school year - Daytona!!

Bobby and Cecilia Scuteri were married in 2001 and are now the proud parents of Vincent Russell Scuteri Born in May of 2002.


Click here to see pictures of Vincent
---
Contact me now!
*
*
*
*